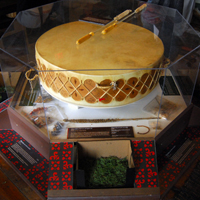 Easton's first tavern is now home to the Lenape Cultural Center. And it's not to be missed.
By Laini Abraham
Over the weekend, I had the opportunity to see what's moved into the Bachmann Publick House building. Thanks to a cooperative effort between several local entities, the Lenape Nation has created a space where visitors can come learn about the Lenape culture. Right now the center is open to the public on Saturdays from noon til 3 pm. Visits are free and activities for children are also planned. This is a wonderful resource for the entire Easton community, a way that we can learn about the people who lived in Easton for centuries before us, their way of life, and how they continue to preserve their culture today.
[nggallery id=104]
The Lenape Cultural Center and Trading Post is located at 169 Northampton St. in Easton, PA.
Other posts you should check out: