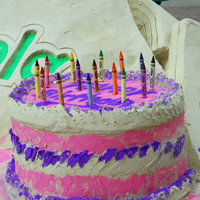 A dump truck full of sand + some world-class sand sculptors + Crayola's birthday + some water mixed with Elmer's glue = Pure Sand/Wax Awesomeness!
By Laini Abraham
The final reveal of the Travel Channel's "Sand Masters'" amazing sand sculpture happened on Friday afternoon. In case you haven't seen it, here it is.
To see this sculpture in progress, check out last week's "Crayons Made of Sand" post.
Other posts you should check out: