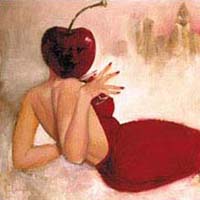 Artist Ann Elizabeth Schlegel finds the perfect framing event in Sex and the City 2
by Lenora Dannelke
If Jimmy Choo and Betsey Johnson are names near and dear to your heart, then you'll probably be buckling on strappy sandals, grabbing a statement-making handbag and heading for Sex and the City 2 this week. Although the film debuts at Rave Motion Pictures Promenade 16 at 11:59 Wednesday night, consider postponing your viewing pleasure until Thursday evening, when a movie-themed "Girls Night Out Party" takes place at Melt's Level 3 from 7 to 11PM. The no-cover-charge event features drink specials, fashion displays, and prizey giveaways that Carrie herself would covet.
Another attraction of the glamorous roof-top event is the art of Ann Elizabeth Schlegel. This Lehigh Valley painter will be offering six different archival-quality prints—all signed and numbered—from her delicious 14-painiting Adult Beverage series. The whimsically sensual personifications of libations worshipped by Carrie, Charlotte, Amanda and Samantha include such sexy divas as Ms. Cosmopolitan, Ms. Manhattan and Ms. Margarita—plus a debonair Mr. Martini. Prints of Schlegel's Adult Beverage works are in the collection of celebrity chef Emeril Lagasse, and several on display at the legendary Harry's Bar in Venice. (Original paintings may be seen currently at Pistachio Bar & Grille in Allentown.)
Although normally priced at $85, Schlegel will be selling prints at the special party price of just $50—or three for $100. (What gal can resist that kind of bargain?) An exhibit of custom framed samples includes a print of Ms. Manhattan in a highly affordable off-the-rack frame—to prove a point. "You can shop at A.C. Moore or Michael's and do-it-yourself for about twenty-five dollars," says Schlegel. "There's no reason that a frame has to cost more than the art." Let's toast smart and savvy shopping!
Lenora Dannelke, a food and travel writer who lives in Old Allentown, loves the abundance of ethnic grocers and restaurants in her neighborhood. She's still waiting, however, for Ethiopian and Korean restaurants to come to town.