Laini and Carrie were looking for a totally different kind of night out. So we went to the Bookstore. And no, we're not talkin' about Barnes and Noble.
Words and Photos by Carrie Havranek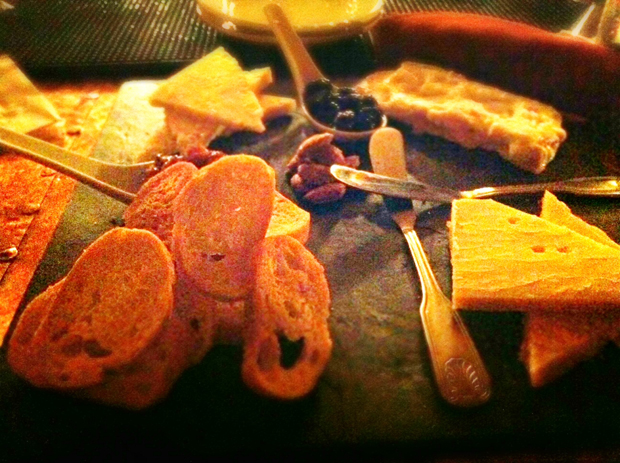 I'm fairly certain that I bounced between Paris and New York City as a writer in the 1920s in a previous life, so utterly comfortable do I feel at the Bookstore Speakeasy in Bethlehem. Amber-flecked lighting dances off every surface, whether it's the copper-topped bar, the close-on-purpose chairs and tables, the dark wood, or the low-slung ceilings. Slide the votive closer to decipher the list of serious cocktails made with fresh fruits and top-shelf ingredients, and the small plates that beg to be shared. With its boudoir-meets-used bookstore sensibility and its mix of live music—always jazz, always hot, sometimes Django-gypsy (like it was on Friday)—I half expected to see Edith Piaf emerge, gauzily, in the corner.
This week's Tasty Tuesday is the result of Laini and I going out on a Friday night for real cocktails, real conversation, a real cheese plate, along with some work talk. The Bookstore, in case you're not familiar with it, is a 1920s-styled speakeasy, complete with surreptitious stairs to its side door on Adams Street. You land in the pseudo lobby of a bookstore, with old tomes lining the walls, and walk through heavy, dramatic curtains that separate the space. I won't divulge all of its special charms, Art Deco touches, and details; I wouldn't want to spoil any surprises. You can, however, expect to dine on small plates or some entrees. We enjoyed its well-loved chickpea popcorn, which, when deep-fried and dusted with herbed sea salt, transforms the humble, versatile legume into tasty, crunchy bar snack. Others tempt too, including the housemade pickles, saffron egg, and honey gorgonzola fig toasts. The cheeses and meats are priced by item; we picked three cheeses—Cabot Clothbound Cheddar (American, sharp and nutty); Roomano (a butterscotchy Gouda); and Leonora goat (tart, gooey and Spanish). Served on a giant slate, its accoutrement included macerated cherries, delicious with the gooey, spreadable Raclette; a fig chutney, spiced, candied almonds, and crostini. You can also choose from the likes of truffle chicken pate, capicola, house smoked trout, and other goodies.
You should also expect that the cocktail menu doesn't list its prices and that it will take you at least a good ten minutes to decide what to order, if you want to see how the Bookstore does it, rather than default to your usual mixed drink. I finally settled on the Ritz Sidecar: bourbon whiskey, lemon juice, Grand Marnier, Angostura bitters, garnished with a sugar rim, an orange and brandied cherry. Laini went with the Adams Street Shuffle: vodka, St. Germain Elderflower Liqueur, aperol, dash of orange bitters and absinthe Verte, simple syrup, and capped with an orange twist. Her second choice was Aviator 1, with gin, Italian maraschino liqueur, orange bitters, lemon juice, simple syrup, Creme Yvette, and a flamed orange twist (which I sadly missed the opportunity to photograph.) But after one (or two or three) of those drinks, concocted with a legitimate block of ice, you won't care much about the fact that the prices are conspicuously absent from the menu . Such earthly cares are temporarily forgotten. You will be under the Bookstore's spell, transported to another era where people unwound at the end of the day with an authentic cocktail, talked and laughed with their heads close together at small tables, and soaked up the music.
If this sounds like your idea of a good time, go. The Bookstore is very much in business, despite its inoperable website, which may suggest the contrary, and an ownership change that had people gossiping around town for a while. We won't indulge in such patter here, but suffice to say you should consider making a reservation on the weekend. You might also think about the upcoming Cocktail Dinner, on April 3, at 7pm: a four-course meal with one cocktail per course, with live music. Cost is $60.
The Bookstore Speakeasy, 336 Adams Street, Bethlehem; Tuesday-Saturday, 5pm-2am; 610-867-1100. Live music Thursday-Saturday nights.
Carrie Havranek is a writer in Easton who loves Dorothy Parker, le jazz manouche, and a good, stiff drink.
More tasty posts about food and restaurants for you: