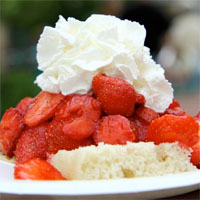 Get your strawberries while the picking's good.
By Michelle Pittman and Michael Buck
Strawberry fans – time is running out! While these little red, delicious bites of late spring/early summer are usually in full swing until the end of June, this year's hot, early spring has pushed up the end of the season.
Good thing, then, that Easton's Farmers Market just hosted its annual Strawberry Social. Local businesses and farmers were on hand to sell, prepare and celebrate this tiny fruit.We were on hand to eat and learn.
Strawberries, like all thin-skinned fruits, are high on the list of products you want to buy with as few pesticides as possible, if you're worried about that sort of thing. Luckily for locavores, we have Cathy Coffey, owner of Heritage Farms in Forks Township, who provided the berries being turned into outstanding short cake treats at the Farmers' Market.
Cathy gave us a few tips on planting strawberries – while pests aren't much of a problem, fungus is. Because the plants sit so low to the ground and grow in batches, it's also hard to weed them. Heck, for the home gardener, you can even grow them upside down, eliminating both problems.
For a continuous supply of fruit throughout the entire growing season, check out Beechwood Orchard's booth at the southwest portion of the Easton Farmers' Market. We picked up some strawberries from these fifth-generation farmers while at the market and look forward to the cooler fall months, when they'll have grapes and apples for sale. Yum!
With plenty of strawberries in our fridge, we've concocted a few ways to use them up. Of course, the tried and true methods — strawberry shortcake, strawberry milkshakes and strawberry pie — are pretty good too. So, hurry up! Get your strawberries while the picking's good.