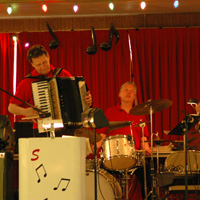 Some people went to church, some played outside, but I am one lucky girl because I finally got to go to Jolly Joe Timmer's Grove!
By Laini Abraham
For months I didn't even think it existed… the Grove? In Pt. Phillips? or is it Pt. Phillip? I knew about Jolly Joe Timmer, I mean, I live in the Valley, who hasn't heard of Jolly Joe? He's the Polka King. Responsible for Fest Platz (and probably indirectly the Chicken Lady), WGPA Sunny 1100 AM (www.wgpasunny1100.com), his Jolly Joe Timmer's House of Music and about 50 years of polka music and culture in the Valley. But the Grove… Jolly Joe's Polka Fun Center was something I'd never experienced – until yesterday. Beautiful setting, Walt Wagner's Polka Serenaders featuring Eddie Derwin, dancing and pierogies! So without further ado, I present the photos. If you need a soundtrack, go here > www.youtube.com/watch?v=GAAZHkXv-pA
Oh, and two points of interest – that chocolate cake is really BIG! It has about 2 cups of sugar in each layer. Total calories… unknown. And if you're interested in the A-Treat vending machine, it could probably be yours.