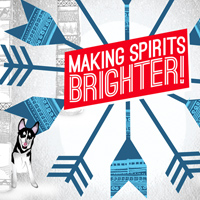 The NoShows Artist & Music Collective is coming together again this Saturday, December 8th, 2012 for their annual art opening for a good cause.
Pin It
 Note from Laini: Here is an event that's happening this weekend in SouthSide Bethlehem. Cool art, live music, great local shopping opportunity. It's all there. So, put it in your calendar now, tell your friends, and support this collective of people who's trying to help, in more ways than one. 
This year's NoShows Artist & Music Collective event, "Making Spirits Brighter", we will bring together nine artists from the Lehigh Valley to Brooklyn, New York. The show will take place at the Blue Sky Café in Bethlehem, PA. Founded in 2007, by Melanie Smith and Ariana Abud, The NoShows is a collective of artists and musicians who were brought together through their mutual love of art and their common desire to do outreach into the community and the world. The NoShows Collective has expanded and grown into a well-respected organization which uses art and music to inspire and ignite the minds of others, to create hope within the Bethlehem community and beyond. Their goal is to help raise awareness about local and global service projects and organizations in need through music and art.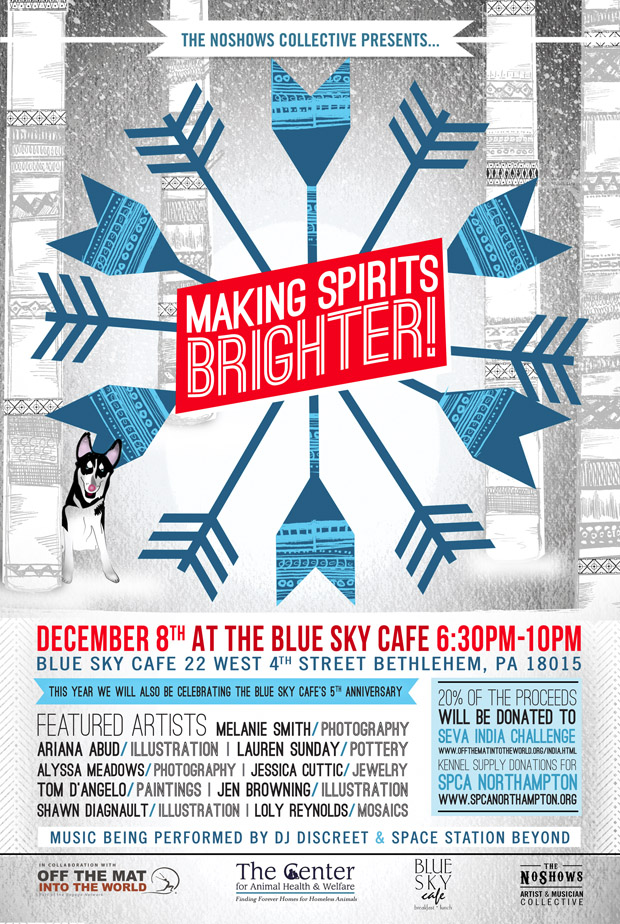 Some of the mediums that will be shown this year include: embroidered jewelry, illustration, photography, paintings and mosaic art. For many of the artists, this will be the first time they'll be showing their work to such a large audience. The featured works are sure to to intrigue and inspire anyone who appreciates art and music. The event will also feature live music, with sets from both DJ Discrete of Bethlehem and Space Station Beyond, a drum and bass duo from Brooklyn, NY. In celebration of their 5th anniversary, The Blue Sky Café will be providing light refreshments.
This year's NoShows Collective will be donating 20% of all artists' sales and also 100% of the door to Joshua Kehler's Seva Project India to help fight human trafficking. Seva Project India is part of the Off the Mat into the World project.
The NoShows Artist & Music Collective are animal lovers and so they will also be teaming up with The Center for Animal Health and Welfare to collect kennel supply donations and provide information about the Shelter's adoptable animals. They are in need of lots of supplies. If you are able to donate something and would like a better of idea of what they need, here is their wish list.
The NoShows Collective feels that art and music can unite a community and bring together like minded people as well break social barriers to make this world a better place to live in. They continue to seek new artists who would like to be a part of their mission.