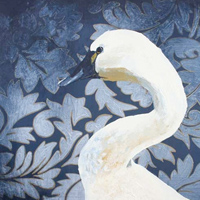 Or is it outside in? Looking Outside from the Inside? How many fun things can you do with these phrases?
By Carrie Havranek
If you are looking to get out and wander around this weekend, the fine folks at Mercantile Home are celebrating the opening of a new exhibit called "Outside In: A New Collection of Art, Objects and Curiosities." The show opens Saturday, April 10 and runs through May 30th. Stop by the reception between 4pm and 7pm to check out work from artists such as Matt Adrian, Christina Empedocles, Jessica Marquez, Kelly Neidig and Natalie Tyler, all of which "explores the artificial dichotomy between Nature and the Manmade interior." Frank Lloyd Wright, the architectural champion of bringing the outside in, would be proud.
Artists Ken Jones, Jr. and Ron Morris are the brains behind Mercantile Home, which in addition to its regular art exhibits, offers a storefront full of intriguing, thoughtful, unique little wares for your home and heart. It's hard to argue with things made by hand, with love. You may have seen their booth at the Easton Farmers'  Market, selling the likes of wine bags and notecards and other things you didn't know you needed. They also have an Etsy shop–no surprise–but you can see and buy the stuff in person, so why not stop by and purchase something singular for your home and support artists at the same time?
Mercantile Home, 526 Northampton Street, Easton; 610-2580-4046