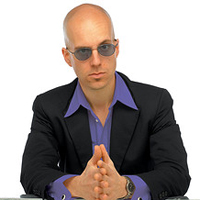 Groove, skate, think, create, or laugh. You are free to move about the Valley.
By Laini Abraham
1. 21812: A Gneiss Night Out
Saturday at 8pm, The IceHouse, 56 River St., Bethlehem
Bethlehem's own George Hrab will be playing a live show with his Geologic Universe at the IceHouse. Phil Plait, host of Discovery Channel's Bad Universe, will also be performing with Hrab and his Universe. Hrab's Geologic Orchestra is a nine-piece, horn-based rock ensemble that focuses mainly on George's vast catalogue of material, but is also known to delve into bizarre covers of classical and popular music. Hrab has become somewhat of a darling of the skeptic and critical thinking community due to his music, his podcast "The Geologic Podcast", and his worldwide travels and freethought proselytizing. This performance will be recorded and filmed for both a live album and DVD release, and along with Phil Plait, will feature a number of surprise performers including Hrab's mother.
2. "Who Shot Rock & Roll" Benefit Party for WDIY
Saturday from 7 to 11pm, Allentown Art Museum, 31 N. 5th St., Allentown
If you didn't get to see this amazing new exhibit when it opened last weekend, this is a great opportunity to still be among the first to see it, and help raise money for the Lehigh Valley's treasure of a public radio station, WDIY.
3. Lisa Lampanelli at the State Theatre
Friday at 7 and 9:30 pm, The State Theatre, 453 Northampton St., Easton
From the State's website: "Lisa Lampanelli is Comedy's Lovable Queen of Mean is a cross between Don Rickles, Archie Bunker, and a vial of estrogen. She even won accolades from The King of All Media Howard Stern, who called her "a true original and a brilliant comedy mind who'll steal the show every time." Best known for her show-stopping performances on the Comedy Central Roasts, Lampanelli is a no-holds-barred insult comic who masterfully works her audience while maintaining an inherent likeability that steals the hearts of her fans." Also, if you can't make it out Friday night, check out the Fab Faux at the State on Saturday night.
4. The Little Foxes
Friday and Saturday, Sunday, Zoellner, Bethlehem
From Zoellner's website: "The Hubbards, aristocratic and corrupt cotton plantation owners, will do anything for money. This play about backstabbing families, treachery and greed is as relevant today as in 1939.  Hellman's works are "landmarks in the history of New York theatre, if perhaps not the history of drama." (The New York Times)"
5. "Meet the Animals Day" at Nurture Nature Center
Saturday from 12 to 1:30pm, Nurture Nature Center, 518 Northampton St., Easton
Nurture Nature Center's first Family Saturday is this weekend! Hissing cockroaches! Magnificent birds of prey! Bring your family to the Nurture Nature Center to Meet the Animals with the Wildlands Conservancy. The program will feature a variety of education animals that have been rescued by Wildlands and is for kids of all ages. Cost: Free with $5 suggested donation.
6. Mandala Workshop with Stephanie Smith
Saturday from 10am to Noon, The Baum School of Art, 510 Linden St., Allentown
From the Facebook event page: "Join Lehigh Valley artist Stephanie Smith as she guides workshop participants through simple rhythmic drawing techniques to create a mandala – a circular art form which can be a powerful tool for meditation and creative self expression. Self-taught and often referred to as "fearless" by her peers for her bold artistic expressions across multiple media forms, Stephanie's ultimate goal is to encourage creativity without fear of judgment." Post-publication note: This event is already full. Sorry about that. Definitely check out her future classes and reserve your space early, if interested.
7. Lehigh Valley Rollergirls Scrimmage
Sunday from 4:30 to 7pm, Independence Family Fun Center, 4345 Independence Dr., Schnecksville
LVRR will be scrimmaging against Wilkes Barre/Scranton Roller Radicals. This event is free and open to the public. When I grow up, I would like to be an LV Rollergirl. And in the mean time, I will skate. 🙂
 8. "Money, Elections, Congress, and the Supreme Court. – Part II"
Sunday at 9am, Community Room of the Unitarian Universalist Church of the LV, Center and Wall Sts., Bethlehem
This is the kind of stuff I want to pay more attention to. Presented by Don Barry in the community room of the Unitarian Universalist Church of the Lehigh Valley. Bagels and coffee provided at 8:45. Discussion encouraged. For info call 610-434-8779 or email danielhazelton@rcn.com.
9. Richard Alley Presents "Why We Need Energy, Why Burning All the Fossil Fuels is Not the Best Idea, and What We Can Do Instead"
Tuesday at 7:30pm, Colton Chapel, Lafayette College, Easton
This free, public lecture will be given by Dr. Richard Alley, a highly acclaimed glaciologist and climate change scientist. Sponsored by the interdisciplinary Environmental Science and Studies Program at Lafayette.
Other posts you should check out: