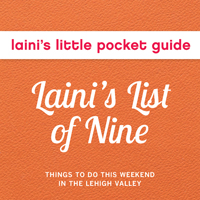 Happy First Weekend of May! In some ways, this feels like it will be the first weekend of summer. Who cares what the calendar says? Let the season begin!
By Laini Abraham
1. Science Works 2012
Saturday from 11am to2pm and Sunday from 1 to 4pm, DaVinci Science Center, 3145 Hamilton Blvd. Bypass, Allentown
The Da Vinci Science Center's sixth annual celebration of informal science, Science Works 2012 will be a two-day showcase of mystery, mastery, and science's synergies with the arts. Science Works 2012 of May 5-6 also will include special visitor experiences at the Da Vinci Science Center.
2. Opening Day of Easton Farmers' Market's 260th Season
Saturday from 9am to 1pm, Centre Square, Easton
New vendors, new festivals, fresh, local goodness and that incomparable EFM spirit await you!
3. First Friday
Friday from 6 to 10pm, Various Locations throughout Southside Bethlehem
The theme of this month's First Friday is "Born to Be Wild." It sounds like it could be a good place to get into some trouble. Good trouble, of course. 🙂
4. Fundraiser for Mark Werkheiser at Market Days
Saturday and Sunday, Landmark Gardens & Nursery, 902 Mud Lane, Northampton
A portion of all nursery sales will be donated to a fund for Mark Werkheiser's children during this weekend's Market Days. While you're there, visit the Farmers' Market, Crafters' Market and Flea Market. There will also be a trackless train ride and Bounce House for the kids.
5. The Little Prince Public Performance
Friday, Saturday and Sunday, and through May 2oth, The Charles A. Brown Ice House, 57 River St., Bethlehem
See the Pennsylvania Youth Theatre's spring musical in its opening weekend!
6. 32nd Annual Historic Easton House Tour to Benefit Easton Main Street Initiative
Saturday from 10am to 4pm, Various Locations throughout Easton
Experience Easton's architectural history and support downtown preservation. This self-guided tour features eight outstanding homes and public spaces throughout the City's four neighbrhoods.
7. Hunt for History Club: Fun with Fabric
Saturday from 12 to 4pm, Colonial Industrial Quarter, Bethlehem
An event just for kids! Through a visit to the Waterworks, kids will see a working waterwheel and explore water's importance in producing goods during colonial times. Club members can design fabric, spin yarn, dye cloth to take home, and even dress in period clothing!
8. Who Shot Rock & Roll
Saturday and Sunday, through May 13th, Allentown Art Museum, 31 N. 5th St., Allentown
This is the second to the last weekend this awesome photographic exhibit will be here. Go see it before it's too late!
9. Loose Threads' Three Year Anniversary Party
Friday from 6 to 10pm, Loose Threads Boutique, 9 W. 4th St., Bethlehem
Stop by Loose Threads during First Friday and wish Laura and Helene a happy third anniversary of their wonderfully unique shop. There will be food, music, discounts and a gift certificate to be won.
Oh, and yeah, it's also Cinco de Mayo. If you're looking for ways to celebrate that, check out yesterday's Five Cool Mexican Experiences.