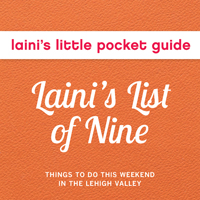 Here is this week's list of what's going on in the Lehigh Valley. Run with the Champ, go to a giant sale and find recycled things, and take the kids to SteelStacks for an educational sing-a-long. Whatever you do, have a great weekend!
By Laini Abraham and Katie Vogel
1. 9th Annual SouthSide Film Festival
Friday and Saturday, 5:20pm to 10:55pm, Varying venues, Bethlehem
We can go to the movies and see the big major motion pictures on any weekend, but it's rare that we get the chance some of the great independent films that are out there unless it's rented. Fortunately for us, we have the 9th Annual Southside Film Festival wrapping up this weekend. This is an excellent opportunity to see some truly passionate filmmakers share their work and learn what really drives them. Who knows? Maybe you'll be watching a future Oscar winner.
2. Run with the Champ 5k Run/Walk
Saturday, 10am, Scott Park, Easton
Back in 1978, the Run With Champ race was aimed at promoting an active, healthy community while also raising money for the city's youth. The race returns this year and the Larry Holmes Charitable Foundation is set to continue that legacy. This year they will also be honoring Cpl. Dan Lasko, who served in Afghanistan in 2004 and is a purple heart recipient. Registration for the event is at 8:30 am and the race will begin at 10am.
3. New-to-You Sale
Saturday, 9am to 3pm, Sunday, 12pm to 3pm, and Monday, 9am to 1pm, Burnside Plantation, Bethlehem
Everyone loves a good bargain and the New-to-You Sale is the ultimate place for deals. Yards sales are great places to find things you need that someone else doesn't want, but why drive around all over the place when you can visit one place with lots of options. For even bigger deals, Sunday is Half Price day, and Monday is Half Price Bag day!
4. Peas & Qs featuring the Deedle Deedle Dees
Saturday, 11am, Levitt Pavilion SteelStacks, 101 Founders Way, Bethlehem
There's nothing better than watching a child learn and have fun while doing it. The Deedle Deedle Dees engage their audience with music of all influences to teach children about many of the great people from our history. They will have your kids bouncing around, singing along, and dancing while absorbing all the information about many of the world's revolutionary people and heroes.
5. Alternative Gallery: Summer Kickoff Art Show
Saturday, 7pm to 2am, 904 West Hamilton Street, Allentown
Come check out the grand opening of the Alternative Gallery, where Lehigh Valley artists have together for form their own art gallery. Local artists will have their work on display accompanied with an onsite DJ and even some live painting. Refreshments will also be available.
6. Lehigh Valley Community Benefit
Saturday, 10am to 9pm, 21st & Canal Street, Tri-Boro Sportsman Club, Northampton
It's the Lehigh Valley Community Benefit! Come out for live entertainment, a bike ride and plenty of food. This year, the LVCBC, will also be donating the majority of proceeds raised from this year's event to the family of Mark Werkheiser.
This past March, Mark was murdered by his estranged girlfriend and his sister and her husband have graciously taken his four children into their home. Their aim is to assist in relieving any financial worries of the family so that the bulk of their energies can go towards the emotional care of Mark's children.
7. 2012 Relay for Life of Easton
Friday, 12pm, to Saturday 11:30am, Lafayette College Metzgar Field, Sullivan Trail, Forks Township
We all know someone who has been affected by cancer and the Relay for Life of Easton is a way to help raise awareness, money for the American Cancer Society, and give support to those affected. It's never too late to donate and all support is appreciated. Cancer affects all of us in some way, but if we continue to stand together, one day we will win.
8. Father's Day Brunch
Sunday, By Reservation, Hotel Bethlehem, 437 Main Street, Bethlehem
Let's face it: Dads like food, so why not take him to a delicious brunch buffet at the Hotel Bethlehem. Accompanied by live music, the Sunday Musical Brunch has been voted Best In The Valley for 5 years in a row. Dad and can enjoy omelets, waffles, a carving station and other delectable foods.
9. Ecologically Integrated Edible Intensive Oases (EIEIO)
Saturday, 9am to 5pm, Coopersburg
As per the Alliance for Sustainable Communities website: Let yourself get absorbed in Eco-Integrated Edible Landscaping and partake of a delicious EIEIO design process project in Coopersburg. "Permaculture", "natural" and "organic" gardening are some of the gardening philosophies that are working with nature to provide us with healthful food, materials, and energy production, while increasing the fertility and health of the soil and the health and purity of water, air and ecosystems. RSVP to get directions to the project area in Coopersburg.