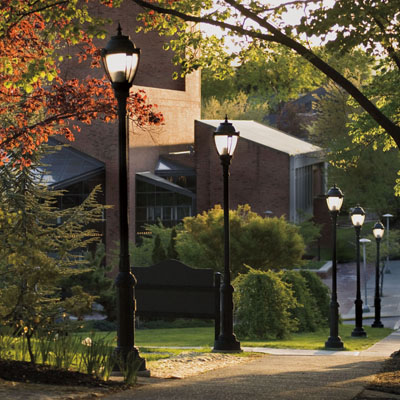 Founded by the Citizens of Easton in 1826
Lafayette College proudly bears the name of the Marquis de Lafayette, French hero of the American Revolution.
On Christmas Eve 1824, the Easton Centinel carried a notice calling upon residents of Northampton County "friendly to the establishment of a COLLEGE at Easton" to meet three days later at White's Hotel on Centre Square.
Led by James Madison Porter, a prominent local lawyer; Joel Jones, another lawyer and graduate of Yale; and Jacob Wagener, a local miller's son notable for his interest in mineralogy and botany, the assembled citizens worked out a plan for a college "combining a course of practical Military Science with the course of Literature and General Science pursued in the Colleges of our Country."
Because the nation was then in a fever over the farewell tour of the aged Marquis de Lafayette, whom Porter had met in Philadelphia the previous August, the founders voted to name their new college for him as "a testimony of respect for [his] talents, virtues, and signal services in the great cause of freedom."
The governor of Pennsylvania signed the College's charter on March 9, 1826. In 1832, the Rev. George Junkin, a Presbyterian minister, agreed to move the curriculum and student body of the Manual Labor Academy of Pennsylvania from Germantown to Easton and to take up the charter. On May 9 of that year classes began in a rented farmhouse, and the 43 students labored in the fields and workshops to earn money in support of the educational program.
Today, Lafayette is an independent, undergraduate, residential college with about 2,400 men and women students and 198 full-time faculty members, all of whom hold the doctorate or other terminal degree. It's one of only 65 colleges and universities in the nation classified as most academically competitive by Barron's, publishers of Profiles of American Colleges and Guide to the Most Competitive Colleges.
There are bachelor of arts degree programs in 33 fields and bachelor of science programs in nine fields of science and four fields of engineering. Lafayette's faculty make deep professional and personal commitments to the success of their students in relationships that can last a lifetime.
The campus includes 60 buildings on 340 total acres, including the College Hill campus overlooking downtown Easton and Metzgar Athletic Campus. Major financial resources make superb facilities and academic programs available to all students. The market value of Lafayette's endowment exceeds $727 million, and the College's assets total more than $1 billion.
Community residents and visitors to Easton engage in a multitude of cultural, intellectual, and athletic offerings at Lafayette.
The Williams Center for the Arts hosts the finest performers in classical and world music, jazz, dance, theater, and more along with complementary workshops, receptions, and other activities. Theatrical and musical performances by Lafayette students and faculty ensembles also highlight the annual calendar.
There is an extensive program of lectures, readings, forums, and conferences on a variety of topics, featuring Lafayette faculty and guest speakers who are known nationally and internationally, along with other cultural and intellectual programs, all free and open to the public.
Gallery exhibitions and related activities – including lectures, workshops, films, and other programs – represent a wide range of media, cultures, and periods. Works by artists from the area and from around the world are exhibited at the Williams Center Gallery, Grossman Gallery in the Williams Visual Arts Building, Portlock Gallery in the David A. Portlock Black Cultural Center, and Lass Gallery and Simon Special Collections Room in Skillman Library.
Local artists interact with distinguished visiting artists and exhibit their art in programs offered by the Experimental Printmaking Institute, the only workshop of its kind in a four-year liberal arts institution in the United States. The Community-Based Teaching program in the Williams Visual Arts Building in downtown Easton provides opportunities for local art students and amateur and professional adult artists, including open-studio drawing sessions.
Lafayette, a member of the Patriot League, sponsors a 23-sport NCAA Division I intercollegiate athletics program and welcomes community fans and visitors to first-rate sports facilities, including Fisher Stadium, Allan P. Kirby Sports Center, and others.