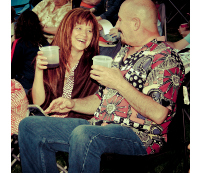 The Tunes at Twilight series of performances is a must-see for the whole family. This includes dogs! Bring a chair or blanket, order some food or wine, relax and enjoy the sweet music in the Sun Inn Courtyard!
Words and Photos by Jandee Weninger
A series of wonderful free performances, called Tunes at Twilight, takes place every Thursday night in May and June at the Sun Inn Courtyard in historic Bethlehem. Bring the whole family, including dogs; all are welcome. The event runs from 6pm, to 8pm, but I recommend you bring camping chairs or a blanket and claim your spot before 6:00PM. You can pack a picnic or order a from one of the restaurants downtown. The show goes on, rain or shine. If it does rain, it is moved to Granny McCarthy's Tea Room, 534 Main St. Last week the talented and clever George Hrab performed. The advertisement said "funk," which immediately got me hooked, but as soon as I got an earful of his lyrics, he won me over completely.
Tunes at Twilight is sponsored by Lafayette Ambassador Bank, D'Huy Engineering and the Downtown Bethlehem Association. If  you would like more information you can call 610-841-5831 or visit the official web site for the city of Bethlehem or the Tunes at Twilight Facebook page.
Here is the schedule for the rest of the shows:
May 13 – Large Flowerheads (groovy 60s)
May 20 – Trouble City All Stars (reggae)
May 27 – Drew Nugent & the Midnight Society (1920's hot jazz)
June 3 – Dan DeChellis Trio (jazz)
June 10 – Kinetic Blu (acoustic rock & alternative progressive)
June 17 – She Said Sunday (party rock )
June 24 – Steve Brosky & Jimmy Meyer (rock and roots)
Where should I go next? If you have suggestions, a show or an event, email me at weningerstudios@yahoo.com.