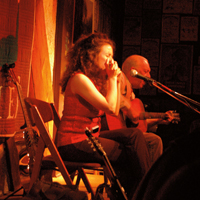 Looking for a new place for some good music? We present five cool ones to you–some you may know, some not.
by Carrie Havranek
We have our festivals. We have our annual events. We have our open mic nights. And we certainly have our share of dive bars where local bands pack 'em in. But here are five cool places within the Lehigh Valley (and a bit beyond) that are worth seeking out for live music.
Godfrey Daniels, Bethlehem: Anyone who's lived here long enough and loves music probably already knows about Godfrey Daniels, but it's one of the most important unique spaces in the Lehigh Valley for live music. Folk, blues, world, singer-songwriter and everything in between finds a home at this listening room on South Side Bethlehem. Local, regional, national acts and beyond make their way through the audience to the small stage for an intimate experience. Upcoming shows include singer-songwriter Ellis Paul, who plays Friday November 19 and Saturday November 20–the latter is a children's show.
Penns Peak, Jim Thorpe. If you didn't know it, you'd think Penns Peak were a ski lodge, with its contemporary-looking, wood facade. The acts have mostly popular and nostalgia appeal, ranging from the likes of Air Supply and Kenny Rogers to Cyndi Lauper and Joan Jett, and dipping into country, hair bands, comedy, and tribute bands. Sha-Na-Na performs Friday November 12, and December brings  Gregg Allman (December 28) and Rusted Root (December 30).
Sellersville Theater, Sellersville. Just off 309 south, a bit past Quakertown, you'll find the Sellersville Theater. It's one of those old, grand theaters that we used to have so much of in this country, and it was renovated in 2007. Here you're likely to encounter a smattering of entertainment: comedy, film screenings, family acts (Trout Fishing in America, anyone?), roots, rock, blues, and more–everything from Asleep at the Wheel (11/14) to David Bromberg Quartet (December 4) to Paula Cole (February 13). The holiday season brings appearances by George Winston on December 8 and the folksinging harmonies of sister duo The Roches two days later.
Williams Center for the Arts, Easton. Though it may not offer as many performances as some of its higher-ed competitors in the Lehigh Valley, the Williams Center at Lafayette College  puts on high-quality, intelligent entertainment that serves not only the college population but the larger community as well. Philadanco brings its terpsichorean feats to the stage on Friday night, and the weeks leading up to the holidays bring faculty and student concerts to get you in the spirit. If you love classical music, Orpheus Chamber Orchestra makes its holiday appearance with a guest appearance from soprano Kate Royal.
Zoellner Arts Center, Bethlehem. Lehigh University's hub of entertainment for the past 14 years, Zoellner's schedule is chockablock with a little bit of something for everyone. In fact, this season boasts over 100 performances. The coming weeks bring student ensembles, as the holidays draw near, and a reading from poet-essayist Jane Hirshfield (November 16). As for spring semester, look for the high-flying Cirque Eloize ID and a touring performance of the Tony Award-winning rock musical Spring Awakening.

Though she doesn't get out much at night anymore, Carrie Havranek saw Spring Awakening in New York before it closed and loved it, and wished that there was a real jazz club in the Lehigh Valley, which would get her out more.