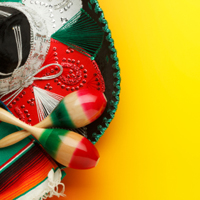 Feeling like a little Mexican food, with Cinco de Mayo on the horizon? Here are five cool places in the Lehigh Valley for a Mexican experience.
by Carrie Havranek
There are so many places for Mexican food—and its derivatives such as Tex-Mex, American-Mex, and so forth—that we're looking at five of them again and have no trouble avoiding a repeat of last year's story, Five Cool Places for a Mexican Experience.
Burrito Works, Allentown. Burrito Works opened last March and located next door to Allentown Brew Works. It's owned by the Fegley family, so that means beer is incorporated into the prep: the beef is marinated in its porter, the chicken in the Wit, and the pork in its blonde ale. You can customize your burrito with any number of ingredients—many of them local, all-natural sustainable, and/or organic—and admire the local art on the walls while you wait. 818 Hamilton Street, Allentown; 484-223-3805.
Don Juan Mex Grill, Easton. The owners of State Cafe and Grill downtown opened up this brightly colored, no-frills burrito and taco joint about a year ago and it keeps locals and students fed and full until the wee hours of the morning. There's a standard burrito menu, but you can order almost anything on yours and customize it. In fact, there's a burrito-of-the-week special, which comes right from the minds of its customers. Whatever you do, make sure you order something with the special ancho sauce.  518 March Street, Easton; 610-438-5661.
La Placita Mexican Deli, Allentown. Full disclosure: I have not yet been here, but I keep *hearing* the best things about this place. How it's great for lunch but you have to get there early because it gets busy and there's not much seating—you gotta walk to the back of this deli, which is also packed with specialty grocery items. How the food is totally authentic; the salsa verde and sopes and enchiladas seem to win points. 158 North 12th Street, Allentown; 610-821-4549.
Mexico Lindo, Bethlehem. This family-owned spot on Main Street, before the bustle of downtown, is laid-back and does lots of take out, too. Mexico Lindo earns points for its tacos, enchiladas, and tamales; the tacos are three for $6. We're curious about one of its specials, the China Poblana: a combination of pork chop, beef, enchiladas, rice and beans, and guacamole. 720 Main Street, Bethlehem; 610-691-5141.
Taquiera La Plaza, Easton. I can't believe we haven't written about this small, authentic place before. It's been around for a few years, and serves some seriously good tacos; people rave about the beef tongue tacos, the pineapple and chorizo, too. I'm partial to the tacos especiales, which comes with your choice of meat wrapped in two corn tortilas, fresh Mexican cheese, cilantro, tomatoes and avocado. It's popular for lunch and take out, but leave your plastic at home: the places takes cash only. 1647 Washington Blvd., Easton; 610-559-6163. (16th/Washington, Easton)
Carrie Havranek is a writer in Easton who doesn't easily tire of Mexican food.