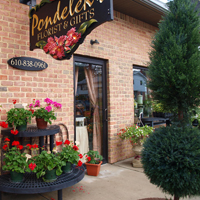 Need a pick-me-up or want some color in your life? No, we're not talking about a salon this week, but a florist.
By Jana K. Hoffman
I shamelessly admit that I haven't been blessed with a green thumb and probably never will acquire one. The last potted plant I attempted to keep alive was an orchid that I received as an apartment-warming gift; it didn't last very long. (Sorry, Patty and Karen. I tried!)
Because of this, I often turn to freshly cut bouquets to adorn my windowsills. Sometimes I stick single stems in empty wine bottles then place the bottles around my apartment to add a bit of life and color to a room since I fail miserably at caring for house plants.
One spot I like to stop by for daily deals on bouquets is Pondelek's Florist & Gifts in Hellertown because of its large inventory of fresh flowers. Conveniently located on 412 South, Pondelek's is a rather grand place with its beautifully painted walls, sky-high ceilings and even a gorgeous chandelier fit for royalty. The inspiring messages painted around the store always seem to make me smile.
Pondelek's is not only a full-service florist. From thoughtful trinkets to exquisite pottery and seasonal dishware to greeting cards for all occasions, Pondelek's is practically a one-stop shop for gift giving. Pondelek's also specializes in European and dish gardens, high-end floral arrangements, dried floral arrangements and more.
I can't believe I haven't yet mentioned how amazing it smells inside! The aromas from different flowers and the scents of colorful candles will invigorate your senses. It truly is a treat for your eyes and nose.
As fall approaches, rich hues of oranges, reds and golds will fill the store. One of my favorite flowers is the Gerbera Daisy, and I simply cannot wait to bring the vibrant orange and rustic red varieties home. Oh yes, and the sunflower. Now is a perfect time to grab a bunch of cheerful sunflowers, too.
When I need a pick-me-up, Pondelek's never disappoints. Consider this fine family-owned florist, around since 1942, the next time you want to treat yourself to fresh flowers or need to purchase a special gift.
Pondelek's Florist & Gifts; 1310 Main Street., Hellertown; 610.838.0961, 800.216.8886. Hours: Monday-Friday, 8am–5:30pm.
Saturday, 9am–4pm.
Jana K. Hoffman is the editorial assistant and resident fashion and beauty expert for Lehigh Valley Style. An experienced and thrifty shopper, she will take you on her retail journeys and report back every other Friday.