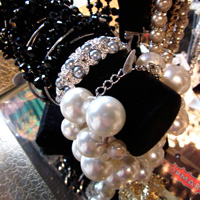 Sparkly bling. Big, bold baubles. Pretty little things. Take a peek inside American Hairlines in Bethlehem and you'll find much more than salon chairs and stylists donned in funky duds.
by Jana K. Hoffman
Do you remember that quirky shop on Broad Street? Inside there were flashy accessories, eclectic wardrobe pieces and even pop art available for purchase. That was Popmart's former location and it closed a good two years ago, but it still thrives, conveniently relocated inside American Hairlines. So after you've had your hair styled and nails manicured, browse Popmart boutique and you can literally walk out with a brand new head-to-toe look.
In my debut post I chose a selection of perfect spring dresses. Now I will take you to one of the best spots for accessories. As you enter American Hairlines, Popmart's accessories practically greet you at the door. Turn to the left or turn to the right and you'll find large mirrored tables and its pieces scattered about on top. Continue poking around because the gems are placed in and around the boutique section of the salon near clothing racks and handbag walls.
Offering a rather eye-catching assortment of big, chunky necklaces and bangles and dainty, feminine chains and charms, co-owner Christi Garton selects a little something interesting for her fashionable customers. In fact, you can very rarely walk in and leave empty handed because her unique finds leave that much of a lasting impression. Keep in mind that I'd file Popmart under the costume jewelry category but this certainly isn't the cheap, gaudy stuff.  A high level of quality exists in all of its pieces.
On my most recent trip, I found a variety of elegant pearl necklaces — long strands layered together that would elegantly drape atop a billowy shirt and chunky choker styles to be paired with higher neckline tops. If you like fun, plastic-y accessories, you'll find thick colorful bangles embellished with flowers and beads in every color of the rainbow. I find myself visiting time and time again for the gigantic rings in all shapes, colors and metals. And I just love the large floral pins and clips that easily add a pop of color to any outfit. You can even wear them in your hair!
If it's funky and flirty accessories you're seeking, add Popmart to the top of your shopping list. If you need a helpful hint while you're browsing, don't be shy; ask the stylista herself. Garton is pleased to offer her expertise and will pull options to complement any outfit or assist in your gift-giving needs.
Popmart, 74 W. Broad St., Bethlehem, 610-882-9848
Jana K. Hoffman is the editorial assistant and resident fashion and beauty expert for Lehigh Valley Style. An experienced and thrifty shopper, she will take you on her retail journeys and report back every other Friday.