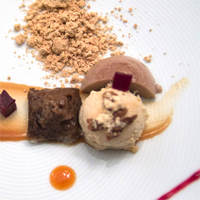 Carrie Havranek and Lenora Dannelke take turns recalling their experience in the kitchen in the second installment of our preview of Jason Hook's new culinary venture.
by Carrie Havranek and Lenora Dannelke
Photos by Marty Desilets and Carrie Havranek
Part I:  Carrie Havranek
"Here," says Jason Hook, as he leaned across the counter, tipping a spoon toward my mouth as I carefully accepted the utensil. "Taste this."
Hook briefly stopped in the middle of the delicate choreography required to execute an eight-course dinner to share a lobster dulce de leche sauce. H2O Kitchen @ the Powder Valley Inn was at max capacity, with Hook's longtime friend and co-chef Kevin O'Kane, two servers running food out to the 25 diners, and Kayla Schatz, an intern from Northampton Community College (Hook's alma mater). Enterprising high school senior Emily Fischer was in the kitchen, too, working as a prep cook (and washing a lot of dishes.)
Hook was putting the finishing touches on the sauce, which accompanied a perfect crisp-soft farm egg gnocchi and an unorthodox white Bolognese, thickened with coconut milk. The aroma of the crustacean was unmistakable, but the taste, not so immediate. A few seconds later, after I slowly savored and swallowed the buttery-sweet mouthful, it hit the back of my throat. Lobster. How the heck?
"Layers. You create layers," he said. And just like that, he returned to work, almost as though it were nothing, but he knows better than that. So did everyone sitting in the kitchen. It's hard, beautiful, honest work, feeding people, but if I hadn't seen it with my own eyes sitting at the chef's table in the cramped, four-burner gas stove in a residential kitchen, if I hadn't known any better, I would have said that Hook personified magic. It's too easy to dismiss this as "just food," but food is never just food. The meal—not cheap by any means—takes days of preparation, from planning to execution. The whole truly becomes greater than the sum of its parts; we've written before about his approach to creative deconstruction.
"It is me taking a product that is magical and amplifying it," Hook later said of these moments when he pauses to pass off a small sample of something he's just put together, at that immediate moment—raw Kobe beef seasoned with sea salt, for example, and serve it straight from his knife's blade. (Or, in my case, right off the spoon.) "My chef Alain Ducasse taught me that: take a pristine product and just show that off. It's about respect for the ingredients," he says.
The immediacy and intimacy of dining at H2O's chef's table is one thing, and a fleeting thing at that. With the spring renovation, the chef's table will disappear. Hook wants no exclusivity; dining is a democratic exercise. Everyone will sit at a communal table, and chef's pass and the kitchen will be open, in plain sight. There will be no curtain behind this wizard—the process will be demystified, and diners will glimpse the alchemy at work within paces of the dining room. But let's put aside the fancy metaphors for a moment.
The more intriguing and truly special aspect of the H2O experience is witnessing a fine dining concept come to life right in front of your very eyes. Hook exhibits a fastidious attention to detail, intensely focused on every single composition, swiftly placing micro greens (from Blue Moon Acres in Buckingham) with culinary plating tweezers. His is a serious game face. Calling it spellbinding, fascinating, riveting is a failure to communicate; the words are unspecific, hyperbolic. No, it makes more sense to note the precise mise en place taking up two-thirds of the longest unbroken countertop in the kitchen. You would see, too, the tiny squeeze bottles labeled in blue painter's tape and a Sharpie, indicating the contents such as beet juice, kimchi mayo, miso-mustard, raspberry ketchup and so forth. You'd also observe his professional, roll-with-the-punches, nature: We witnessed no drama, no hurling of invectives at anyone in the kitchen, no petulant explosions when something went awry. The staff follows the leader; after all, all of those histrionics are for television chefs. When the scallop boudin came out of the oven, it was unexpectedly puffy, soufflé-like. Prepped and sitting in the fridge for a couple of days, the egg congealed to the point where when heat was applied, it went "pouf!" in the oven. "So it looks like the Stay-Puft marshmallow man. Big deal," he said to himself. We had reached the sixth course, and this was the first glitch. Those in the dining room—at least a half a dozen of whom had been to previous tasting dinners with Hook—would likely think it was an experimental take on the typically Cajun boudin and consume it with a satisfied mix of curiosity and pleasure.
We experienced pairings that were surprising, creative. The pork belly was cured, not smoked, and felt like porcine velvet on the tongue, and the scallop boudin seemed to simply dissolve in my mouth, but I don't want to get totally carried away here. It's time for my co-author, Lenora, to step in. She sat at the other end of the table, in the very same kitchen, but had a different experience.
Part II: Lenora Dannelke
Snagging a ringside seat at H2O Kitchen was theater; it was art. And the evening's menu taped to a cabinet door like a set list added a rock concert element to the event. Considering that Hook, O'Kane and staff were working in a modest home kitchen that probably hadn't been updated since the Carter administration, the eight exquisite courses served in three and a half hours seemed even more remarkable. Professional equipment such as combi ovens or immersion circulators will arrive when "gentle demolition," as co-owner Angel Jamison describes it, takes place in the next month.
A menu of concise descriptors, such as "oyster po' boy/kimchee, fuji apple pickle, miso mayo/potato roll," whetted my appetite but gave my daughter (also my dining partner) some trepidation. Many were items she wouldn't be inclined to order in a traditional restaurant. I advised her to taste the dishes before referring back to the menu. Chef O'Kane, working on the other side of the counter, seconded this approach. Indeed, it would have been impossible to accurately imagine the interpretations set before us, with individual ingredients transformed into aesthetic presentations of amazing textural balance and taste bud-igniting flavor. By the end of the second course my daughter was a total convert, scarfing down unfamiliar-sounding dishes with hedonistic abandon.
A third course of risotto, which one of our dining partners described as "like being hugged on the inside," proved to be a crowd pleaser. (Carrie's interjection: We're talking about my husband, who wanted to lick the plate. Hook said, "You're in my kitchen. Go ahead.") Laden with meaty hen-of-the-wood mushrooms that delivered a major umami punch, topped with fine shreds of nutty Piave cheese and crowned with a tableside grating of sweet-tart Meyer lemon, this dish announced comfort from the first fragrant aroma.
My personal favorite followed, a veal tartare seasoned with a mushroom-soy-truffle gel (which really ought to usurp ketchup as America's favorite condiment, it's just that good) and mixed with brunoise-cut Asian pears that added a juicy (and not overwhelmingly sweet) crunch to the delicate meat. A dab of lingonberry sauce added a dash of Scandinavian flair without the drive to IKEA.
Next came my daughter's top choice, a single piece of toasty-on-the-outside, creamy-on-the-inside farm egg gnocchi, enhanced by an unexpected and thoroughly delectable lobster dulce de leche (which my co-author got to taste right off the spoon!), and framed by a rich white Bolognese.
When the penultimate dish arrived, featuring two counter-stacked slices of dry aged Waygu sirloin topped with a butternut squash coin, fork fatigue had set in and the few ounces of meat looked as daunting as a three-pound, we-dare-you-to-eat-this steakhouse special. However, the unadulterated taste of the steak, partnered with a robustly flavored and meltingly tender braised beef cheek, and adorned with a roasted pearl onion and a swoosh of black garlic bordelaise, made it easy to clean the plate.
The craft beer focus went in a surprisingly accessible direction. Overly generous pours of six brews selected by blogger Glenn Koehler of the El Vee featured a pair of heavy-weight Lehigh Valley beers, Blithering Idiot Barleywine from Weyerbacher Brewing Company and Bourbon Barrel Aged Insidious Imperial Stout from Fegley's Brew Works, along with Sly Fox's Saison VOS from nearby Phoenixville. The remainder included two domestic brews, Bell's Two Hearted Ale and Left Hand's Sawtooth Ale, as well as a lone import, Brouwerij Verhaeghe's Duchesse De Bourgogne—a tangy Flemish sour which pleased our palates. The heavyweight stout could have stood on its own as a finale to dinner, but my co-author, the dessert connoisseur in our group, tackled it with our last course.
Part III: Carrie Havranek
And then, as is customary, we finished with dessert. Hook called it cocoa milk—deconstructed Cocoa Pebbles. It consisted of bite-size morsels of the following: a half-moon of panna cotta flavored with steeped cereal milk, pyramid-shaped chocolate bread pudding (with cereal saturated in white chocolate), a perfect orb of peanut butter-miso ice cream, and peanut butter powder artfully pressed across the plate with the back of a teaspoon. Delicate dabs of red chili gel decorated the plate. What to do? I stopped. I slowed down, and got intellectual with my approach. I systematically tasted each element discretely, in order to identify and appreciate them. Then I arranged small bits of each item all together on my spoon. The three or four diced, roasted beets were an earthy balance and penetrated the chocolate's sweetness. Similarly, the miso cut through the peanut butter, a taste that tends to consume the entire mouth; its saltiness added a necessary sharpness. The bread pudding's flavor was concentrated and well, saturated, but without telltale cereal sogginess; it was also just its own thing in and of itself.  The imperial stout with roasty-toasty notes was a compulsory pairing, but for me, an afterthought; almost superfluous. The dish needed nothing else. Hook's kind of cooking requires you to think for a minute as you approach the plate, and then just savor it all, harmonizing the head, the heart and the tastebuds for a brief, blissful moment.
Carrie Havranek and Lenora Dannelke agree with an observation once made by newspaper columnist and critic Harriet Van Horne: "Cooking is like love. It should be entered into with abandon or not at all."
All of the upcoming scheduled dinners at H2O Kitchen @ Powder Valley Inn are sold out, with the exception of the special guest chef collaboration with Christopher Kearse of the farm-to-table restaurant Pumpkin, in Philadelphia, on March 7, but more are always being added.
Other posts you should check out: