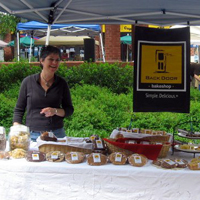 It's May. That means it's market season. The Lehigh Valley is seeing more of these every year. Good eats!
Words and photos by Lauren Sammak
Despite the threat of rain, opening day of the Bethlehem Farmers' Market, at Campus Square at Lehigh University, last Thursday was bright, sunny and bustling. Marketgoers were thrilled with the reusable grocery bag giveaways and the great Local Foods Guide provided by Buy Fresh Buy Local of the Greater Lehigh Valley.  Twelve vendors came, including new ones Key Ingredient Market (spreads and dips), York Moor Farms (fresh eggs and produce), Casa Vieja (lunch items including tacos and guacamole) and Around the World in 80 Cakes (cupcakes and brownies).  Returning vendors were Easton Salsa Co. (salsa and hot sauce), The Popcorn Pit (fresh popcorn and nuts), A Natural Alternative (soaps and toiletries), Back Door Bakeshop (baked goods), Hum-dinger Alpapcas (wool products), Tasty Pastry (kiffles and nut rolls), Quetzal Bakery (Guatemalan baked goods) and Bechdolt Orchards (produce and flowers).  On May 26, two more returning vendors will join the ranks: Lettuce Alone Farm (produce) and The Flour Shop (breads, lunch items). Dave Fry entertained the crowd from 12-2pm with an eclectic mix of music, including a special children's set for the students of Holy Infancy in South Bethlehem, who walked to the market as a field trip. Scott McKenna will perform this week, from 12pm to 2pm.
The Bethlehem Farmers' Market runs Thursdays from 11am to 3pm through October 27, 2011 at Campus Square (New & Morton Streets in South Bethlehem).
Other posts about local food and Lehigh Valley farmers' markets: