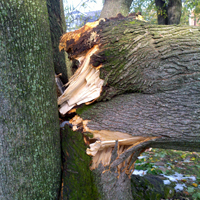 Here are some photos of some of the damage I saw on a walk by the Bushkill Creek and up around Lafayette College this morning.
By laini Abraham
This storm did an amazing amount of damage. There are trees and utility poles and wires down all over. Many people are still without electricity and some say they will not have power back until Wednesday. Please be careful if you encounter wires which are down.
If you'd like to share any damage that was done to your property, please feel free to post in the comments below. If you have photos you'd like to share, you can post them here.
[nggallery id=102]