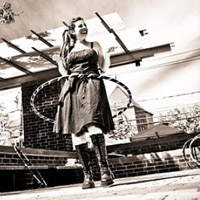 Yes, we know this already happened. But we liked these photos and wanted to share them with you. Don't worry if you missed it . . . there's always next year.
Words and Photos by Christa Timko
Patrons crowded Bethlehem's Southside campus square for Community Artists of Bethlehem's second annual 5-Alarm Art Fair. The likes of handmade jewelry and baby tutus could be found; so could Rin the Red's incredible hats, Loly's Hair Designs, Lauren Sunday's beautiful pottery and plenty of other local artists selling unique art pieces that were just stunning. I'm very happy to say that I took an original piece of art home.  In addition to table vendors, Tina Edwards rocked the plaza with hoops and spinning fun with kids of all ages, all day. Here are a few of my favorite shots from the 5-Alarm Art Fair.
[nggallery id=33]
Photographer Christa Timko moved to Bethlehem seven years ago and immediately fell in love with the city's music and art. She shoots mostly lifestyle portrait work, but also enjoys nature, event and band photography, and prides herself on being creative and spontaneous with an attention to flattering angles and small details.